Ex-Estudiantes de La Plata (EdlP) Manager Diego Simeone's tactical approach is gaining quite a substantial following. The fundamentals in his philosophy are seen as an alternative to the possession-centric systems we've seen dominate the upper echelons of competitive football over the last 10-15 years. Yet, in the aftermath of Pep Guardiola's unhappy return to the Camp Nou with Manchester City, with Pep later admitting that he will not change his approach...ever. Is Diego Simeone now the best hope in changing the face of football with his organised Counter Attacking approach to football?
This blog will not address that question, but it will touch on my tactical approach in Football Manager 2017 (FM17) and my love for Simeone's philosophy and the Counter Attack. I'll also look at how EdlP are shaping up in terms of 'fibra' in FM17- a collective quality that acts as the driver for player recruitment in my FM17 save . For a catch up on what fibra is and where it came from, read Part 1 of the series here.
There is something about the Counter Attack that I've always found appealing. When you see it done properly it's a demonstration of athletic ability, footballing skill and teamwork[1]. Yet, in my opinion, it's widely overlooked in favour of possession orientated systems for most FMers - largely seen as more attractive.
The Counter Attack is a balancing act of finding the right concoction of players in order to make a disciplined unit. Something my youth coach tried to do with my 10 year old teammates and I back in the mid 1990s (perhaps he saw our 'kick-and-rush' approach too may times and abandoned plans of actually doing anything else). One of his many groans during our stumbling kick-and-rush has stayed with me all these years:
"The faster you do something, the harder it is!"
Quite a basic quote, but I 'think' our Coach main issue was addressing to us that the Counter Attack requires a team ethic. When reading up on EdlP's history and anything to do with Diego Simeone[2], the 'team' is central to footballing beliefs. I have noted 10 'buzzwords' whilst reading on this subject during the last few weeks:
Aggression
Collective effort
Commitment
Fighting
Organisation
Practical
Sacrifice
Simplicity
Talent
Team
The above assisted with shaping my fibra plans in FM17. Not just in player recruitment but also in the football I want to play...
[1] Still to do this day, my favorite team goal is this beautiful/effective/simple Counter Attack.
[2] Even as far as Diego Simeone insisting that teammates eat lunches/dinners on an shared table, rather than within several smaller groups.
Current squad's fibra
From Day 1 in my EdlP, I am blessed with eight players who meet or exceed the 55/80 fibra threshold. A further three players are 50-54, with the remaining twelve players not meeting the threshold. This doesn't mean I will look to offload them straight away, but unless they can improve, their days at EdlP are numbered. Here is the First Team fibra scores:
Age is a slight correlating factor, the older the player...generally the more fibra he will have. This brings about an added challenge, as those players closer to retirement will also have to be replaced with players of equal fibra:
Using fibra in FM17
So with all of the above in mind, I've had a few nights of playing around with the FM17 beta's match engine...in order to try and fashion out a semi-working tactic for the 04 November release (where I will embark on my EdlP journey for real). Disclaimer: I accelerated the start of my save to the point at which the Argentine Primera División starts. The knock-on from this is that no tactical familiarity was in place and the AI had not rotated enough players to increase match sharpness. I also had not signed anybody...it's the EdlP as it is from Day 1.
Using the 10 points highlighted earlier, I approach games mostly as a 4-4-2. The desire is to keep it organised and simple. The team has no primary playmaker, I've taken this decision because it would slow our attack down considerably, instead Lucas Viatri as a Deep Lying Forward offers some link up play. During matches I have changed it to 4-1-4-1 DM to 'shut up shop', by taking out the Advanced Forward: Carlos Auzqui.
Whilst on the subject of top scorer Carlos Auzqui (who has 6 goals in 6 appearances), you may be interested to see that he isn't naturally a Central Striker (below). Yet he has made the team based on his unquestionable fibra rating of 56 (notably high Teamwork & Workrate). Auzqui's work ethic sees him get around the pitch really well as demonstrated in his MOTM performance against Independiente. Scoring 2 goals and being the constant outlet for my team's passes. He has been a shining example of the Commitment and Sacrifice needed to make a system such as this work.
For the most part, I have kept it simple with Team Instructions...normally selecting just 3 or 4 in a game. Below are the instructions at (1) my most defensive shape away from home and (2) my more flexible approach at home. Both systems have narrow width, emulating Simeone's Atlético Madrid style. By being narrow, I am compact and prevent the AI from scoring opportunities. Something which has been a real success in the beta, where I have only given away 3 Clear Cut Chances (CCC) in 6 games (4 games where the AI had no CCC whatsoever).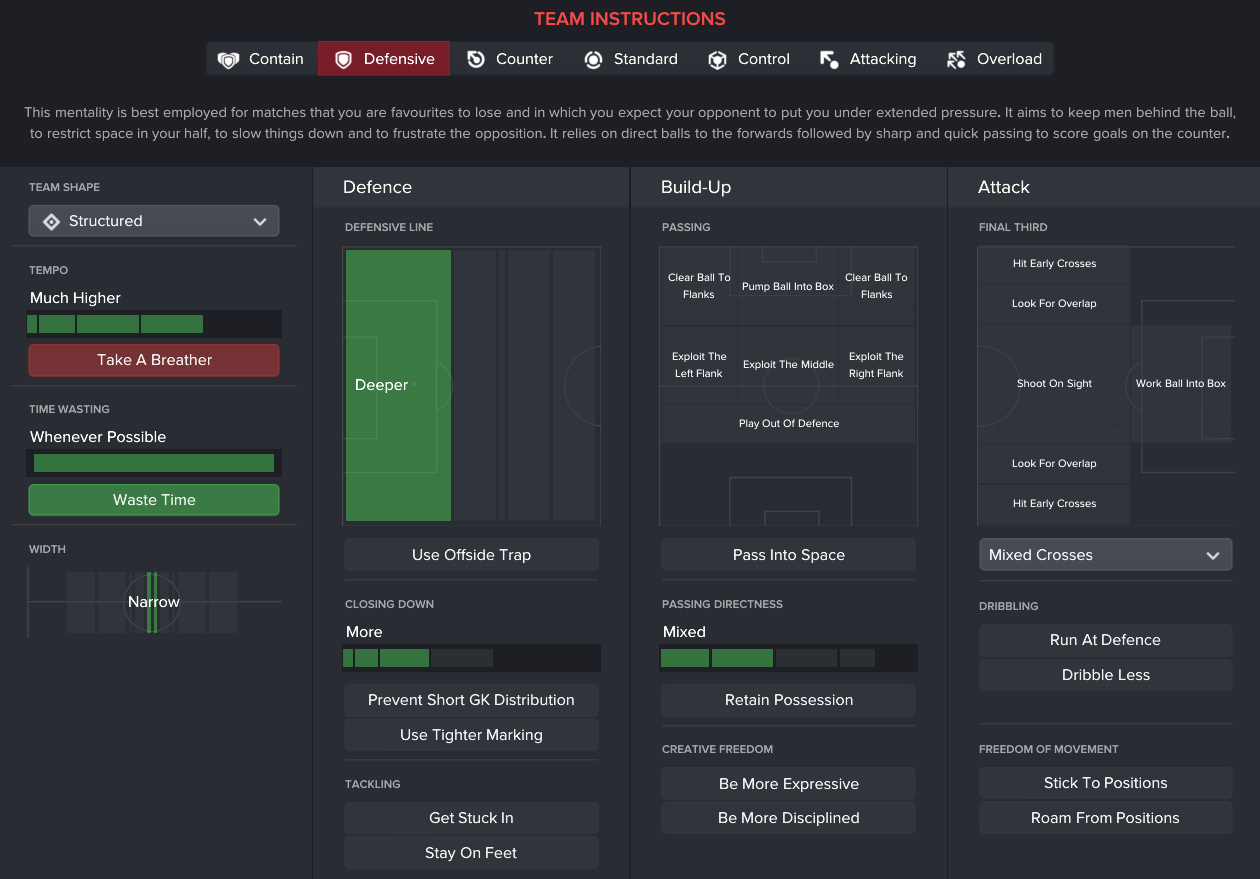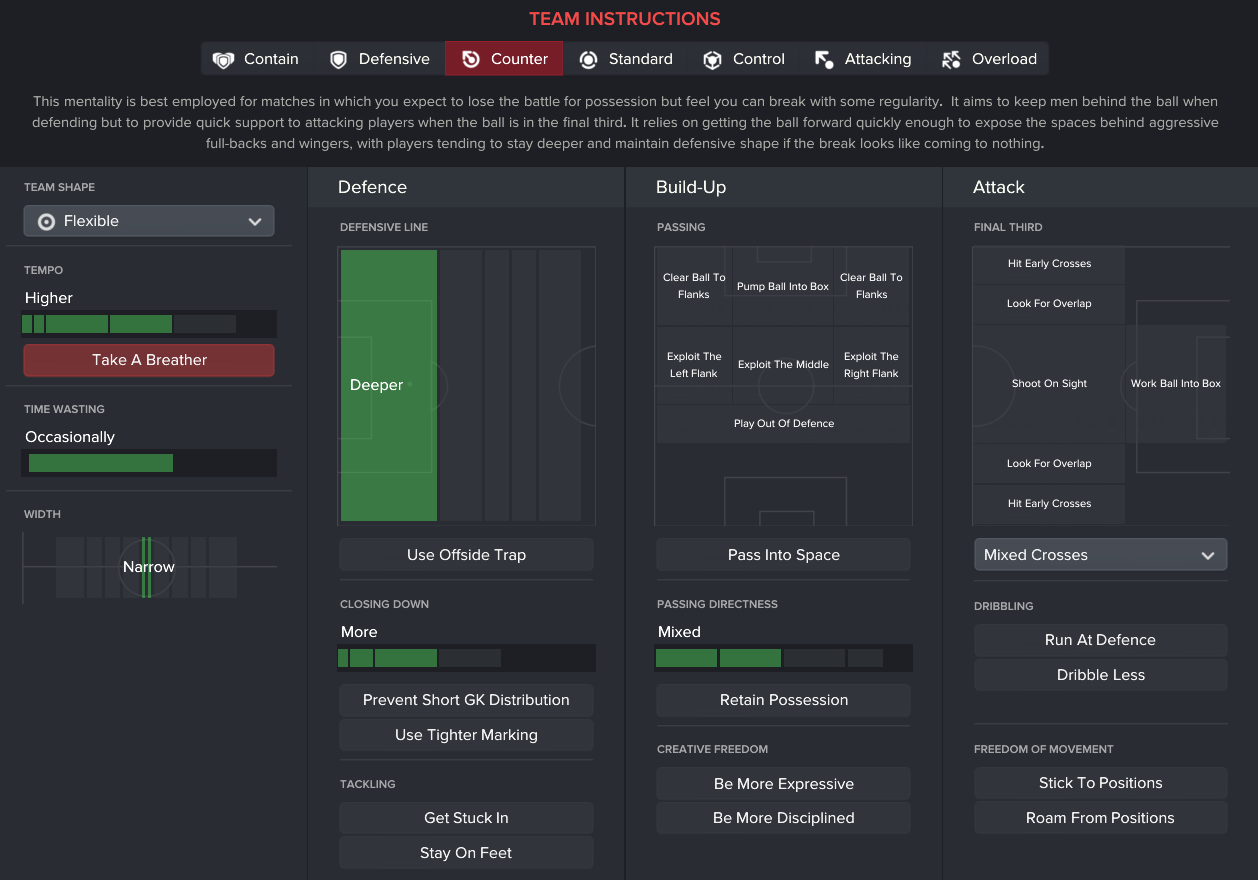 And the bit you've been waiting for, the results in those first 6 competitive games:
The couple of short snippets below from the FM17 beta match engine demonstrate some of the principals of EdlP & Simeone discussed earlier: Aggression, Collective effort, Commitment, Fighting, Organisation, Practical, Sacrifice, Simplicity, Talent & Team...
1. Carlos Auzqui on the counter (Vs Banfield away)
Highlighting the defensive shape and quick counter attack in seconds (Organisation, Practical & Simplicity)...
2. Turnovers of play & directness (Vs Club Atlético Huracán away)
Highlighting Aggression, Collective effort, Commitment & Sacrifice...
Conclusions
It's v.early days to confirm if the fibra tactic and philosophy can bring lasting success to EdlP. But 5 wins and 1 draw, including 3 straight clean sheets, leaves me with a lot of hope. I will power up the save on Friday 04 November and will micro-manage the recruitment, training & tactical familiarity...something I have not done whatsoever in this FM17 beta save. In theory, this should enhance the system even more right?
Part III of Fame & Fibra will most likely coincide with the release of FM17 and will detail my fibra transfer targets in order to add further depth and mental strength to the team. Until then, I will be casually looking for targets on the beta DB. But with the attempt of actively trying to take a break from FM...because we all know Winter IS coming...and FM17 comes with it :-)
As always, thanks in advance for your comments, readership & sharing. It's really appreciated.
FMG