July 2017.
I set out this save to emulate the Estudiantes de La Plata (EdlP) teams of old. Notably the EdlP side of the late 1960s and elements of the Diego Simeone side of 2006/07. Teams who built their successes from the back, whilst playing collectively and orderly. It kick started the whole 'Fibra Project', gathering a collection of players with high Aggression, Determination, Teamwork & Workrate. Players who could maximise the sheer bastardry of my Team Instructions, pushing anti-fútbol to the max. One could be forgiven for thinking that watching 37 matches under 2.5 goals on Comprehensive Match Highlights is boring, but I have honestly loved every second of this save. Now 155 hours into FM17, it's time to summarise my 1st season in La Plata...and all the bastardry anti-fútbol that came with it...
Season 1 Round Up
In an attempt to make this blog post concise, I'm not going to run game-by-game through my season. I am simply going to summarise it in a few words, before move on to the tactical side of my set-up...
2016-17 Argentine Primera División - 4th
We qualified for the 2018 Copa Libertadores Group Stage by finishing 4th! After a solid season with the league's best defensive record (18 goals conceded in 30 games). This included taking a healthy 9 points (out of a possible 15) from the Big 5 of: Boca Juniors, Independiente, Racing Club, River Plate and San Lorenzo de Almagro.
2016 Copa Sudamericana - Winners
This competition has gained Worldwide coverage this week due to the tragic deaths of 77 people in a plane crash, which included the Chapecoense football team from Brazil who were en route to the 1st leg of the Copa Sudamericana Final against Colombian side Atletico Nacional. In short, I won the competition in FM17 and you can read more in a previous blog about it here. But in real life, the real winners will always be Chapecoense. RIP.
2017 Copa Libertadores - 2nd Round (in process)
The Copa Libertadores is the competition where I have dedicated my complete focus & resources on. I got a fairly easy group, avoiding some difficult Brazilian clubs:
We're yet to concede a goal in this competition and we go into the 2nd Round as Group Winners...which means we play our Second Leg at home...against the current champions: Atletico Nacional! We also face this team in the Copa Recopa for winning the Copa Sud:
2017 Copa Argentina
To make fixture congestion even worse for the 2017/18 season, I am into the Copa Argentina later stages. I beat Guillermo Brown (PM) on penalties after a savage 0-0 draw, then I took down Nueva Chicago (another 2nd Division side) 2-0. I now face Club Atlético Independiente in the 7th Round, which is nicely sandwiched in between the Home and Away legs of the Copa Libertadores. GRRRR.
Anti-fútbol
The main aim of my tactic is to stop the opposition scoring. If I can do this with EdlP, then I deem ANY result positive. So before going on to discuss my tactic, here are some stats from the 48 competitive games played in Season 1:
28 Clean Sheets
25 goals conceded
11 Clear Cut Chances given to the AI
Conceded more than one goal in only three separate occasions (all 1-2 losses)
I knew we were tight, but counting up the Clear Cut Chances (CCCs) given to the AI shows just how good we were defensively. It averages out as almost 1 CCC for every 4.5 games! Admittedly, this is not always the deciding factor in games...as the AI can score from chances deemed more difficult. But the CCCs have been my indication of how solid we've been from game to game.
I have started with a 4-4-2 in around 90% of games, using a Counter Mentality - something Simeone did whilst keeping 11 clean sheets in 20 games on the way to winning the 2006 Torneo Apertura (the Opening League in the previous Argentinian League structure). I often drop back into a 4-1-4-1 DM formation on a Defensive Mentality. No game is the same, and tweaks to the Team Instructions and Player Roles are frequent. For instance, one thing I have learnt is that Time Wasting and Stick To Positions are my two big influencers in keeping things tight. It's reduced the amount of gambling the players do, and I have found this brilliant for keeping a lead...even if it's just a slender 1-0.
Here is what we look like without the ball (which is generally around 60% of the time):
What I like is that my £50k bargain buy, José Domingo Salcedo has excelled in the Defensive Wide Midfielder role. With Teamwork 16 and Workrate 17, Salcedo just seems to play well in the narrow shape. Often breaking up attacks through good positioning, Salcedo tucks in and becomes a Central Midfielder at times.
With the ball, my preferred Full Back on Attack (Lucas Diarte) has the license to roam forward:
There are advantages and disadvantages of being so narrow in attack. As you can see from above, my outfield players are within the two black lines...this means that when possession is lost we get back into a compact shape very quickly.
We also have rapid forward movement, due to the Much Higher Tempo being player. Below are three screenshots of a Counter Attack in action. From compact defending to marauding runs into space (we play in black below).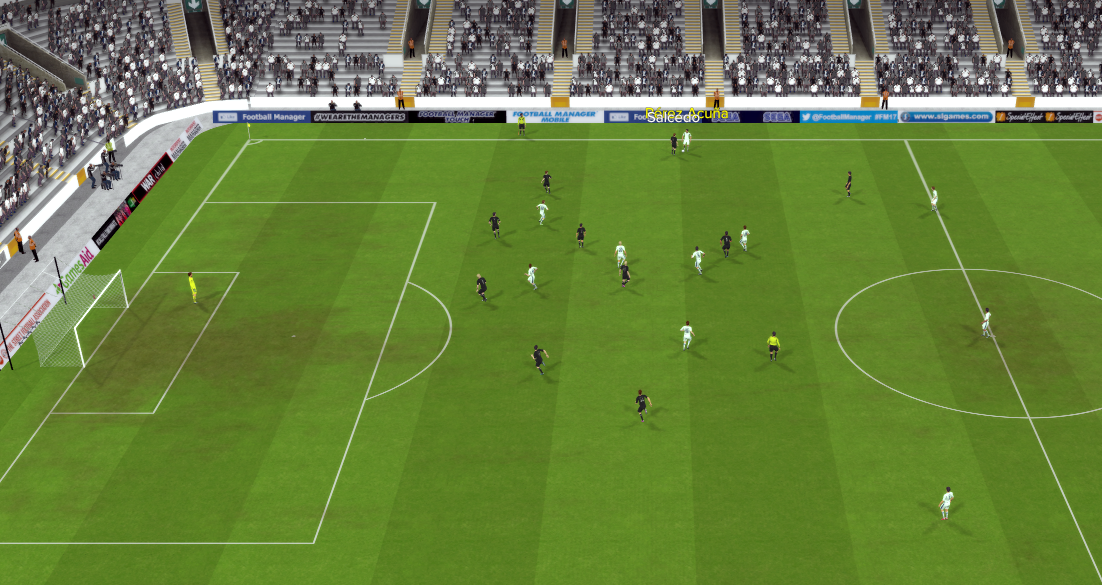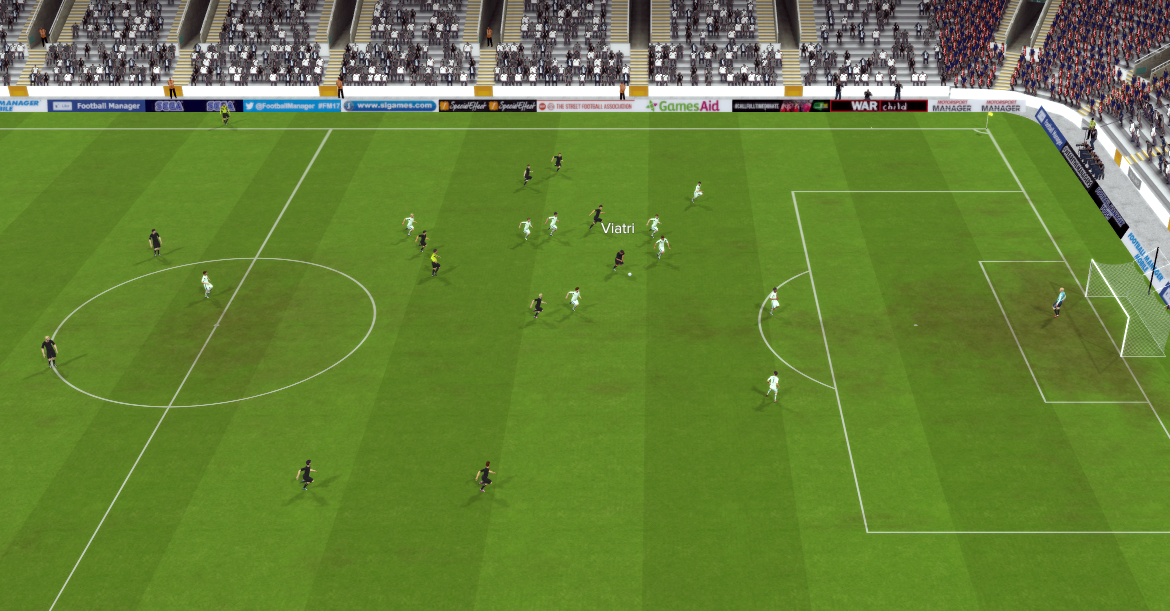 We also sit Deeper, normally just outside the area. Combined with the narrow structure, teams struggle to break through us centrally. There's other factors making this effective though: (1) We're generally playing a team full of high Teamwork, so the unit is together for 90 minutes and (2) Stick To Positions has been really useful (albeit curbing our attacking instincts). This is all demonstrated in the AI's Assist Locations from the 30 league games we played:
So only 12 of those 18 league goals conceded came from AI assists. But we can see the weak point clearly: the overlapping Full Back on Attack duty mentioned earlier has led to 6 AI Assists (on the AI's right wing). That's 50% of league goals conceded. Despite this, we can see 11 assists for EdlP on the left wing (also largely contributed by that same Full Back). So it's a question of Risk Vs Reward.
Nevertheless, I am delighted that teams are not carving me up centrally (Home or Away)...which was always a worry with my 1st choice Centre Back Pairing of Leandro Desábato (Acceleration 7) and Jonathan Schunke (Acceleration 9). It shows that having a Deep Back Line in a Narrow shape can prolong an ageing partnership.
Buying Fibra
As I now look forward to starting Season 2, I announced EIGHT deals on Twitter this week. All signings are with the Fibra model in mind, in the hope that I can push anti-fútbol even further into blatant bastardry...
So that's Season 1 in a nutshell. We look good heading into Season 2, but there are certain things to test in the Match Engine during Pre-Season due to so many changes in our playing staff. Combinations need to be reviewed once more, in order to match the defensive masterclass of my 2016/17 season!
It's been a pleasure sharing my 1st season in La Plata with you and thanks in advance for any future RTs or interactions on Twitter.
FMG