When we last met Marco and Remo they were on course for a second consecutive Domestic Double in 2018/19. This was achieved, with Marco and Remo playing a key role in the success. They also carried this form into the 2019/2020 season, meaning that they both won three league titles in a row at Grasshoppers. As mentioned in a previous Homegrown blogpost, Marco & Remo are the players I am turning to in order to lead a Homegrown European success story. What could possibly go wrong here?
Heartbreak
Well, heartbreak happened. Marco Simon, Homegrown captain at 19 and potentially World Class central midfielder, has left Grasshopper Club Zürich (GCZ) to seek European glory with Olympique Lyonnais (OL). The fee is a generous one, £20m upfront in cash and 30% of any transfer profit made.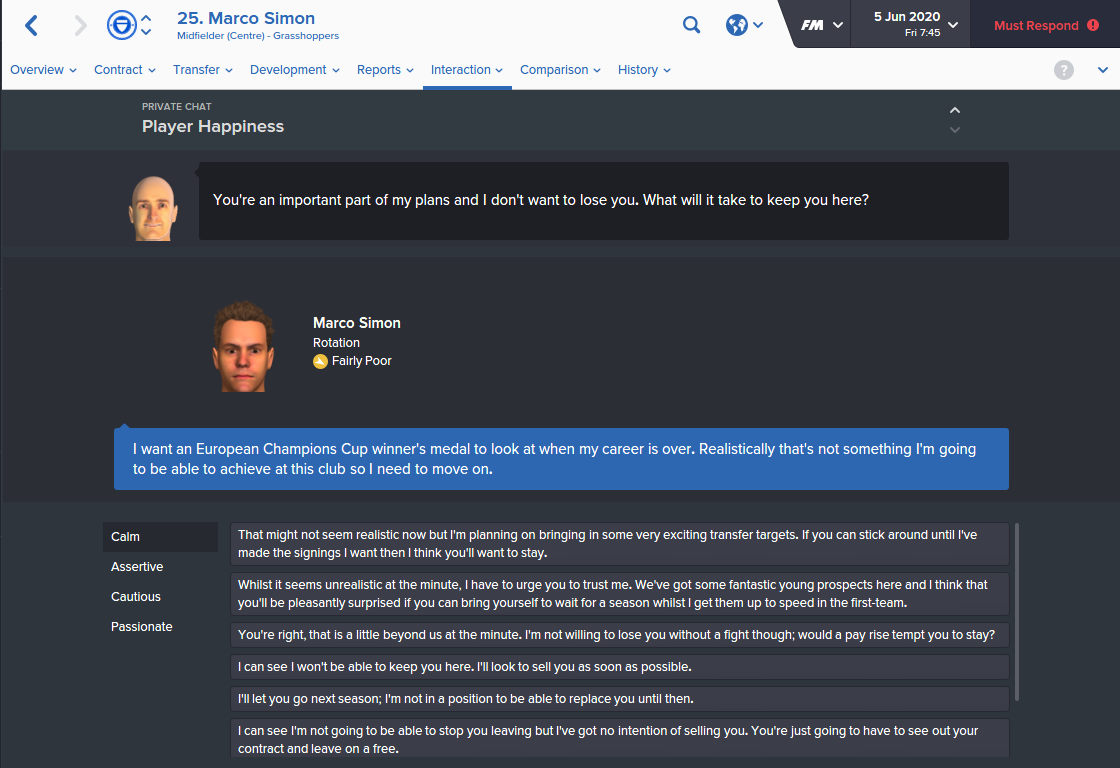 So why did I sanction the deal and potentially sabotage my 5 year plan? There's a number of reasons:
Talks between Marco and his agents started in Summer 2019, in order to extend his deal beyond 2022. For 12 months, Marco refused to talk with the club and angled for a move to a bigger club (for much of the 2019/20 campaign). Not ideal behaviour for Club Captain and somebody I want to build my team around.
Marco's had a noticeable decline in performances within the Match Engine. Although, his stats were marginally better (as you'd expect for a young player year on year). He simply did not have a presence in the BIG games, like in previous years.
Marco was 6 months away from reaching the 18 month milestone of contract expiry. A date I try to set when negotiating new deals. At this point, players are at a reasonable sale value should they wish to leave. Anything after runs the risk of reduced transfer sales.
Marco tore his hamstring (out for at least 3 months) in the last Swiss warm up game before Euro 2020. He could potentially be out for around 25% of the new season. (Trust me, I've torn a hamstring before and I took the best part of a year to be able to sprint freely and at my best again). Marco is crooked for the foreseeable future.
I also have a Homegrown Youngster waiting and (I think) ready to jump into the First Team after being gradually introduced in 2019/20. Enter: Nuno Gouveia (see below).
Lastly (and perhaps most importantly) his behaviour was spreading across the wider group. He wanted an explicit guarantee of Champions League success in 2021. I like to think of myself as a capable FMer but without the use of an Editor and a zero tolerance for cheating...I simply cannot offer this guarantee. In addition to this, what kind of Manager would I be if I let a player walk all over me? Even the Club Captain isn't bigger than the Club itself. After all, we're all servants to GCZ.
So after 4 seasons of nurturing this young boy, turning him into a Swiss International and seeing him win 3 league titles and 2 Swiss Cups. The relationship is over. Here is a summary of Marco's time with GCZ:
103 total competitive appearances for GCZ & 14 International caps for Switzlerand

68 Swiss Super League appearances (28 as Club Captain in 2019/2020). 3 league goals
20 Champions League appearances
15 Swiss Cup appearances
2 goals for Switzlerand
Loyalty
Enough talk about Marco, let's not forget that this blog post is 50% about Remo Mahrer too. Remo is a player who has shown loyalty in 2019/20 by signing a new £12.5k per week 4 year deal. This will keep him at GCZ until 2024 at least, although there is the added complication of a £25m release clause...should a BIG club come in for him.
Remo is on an upward curve and is surprising me with his development. For the first time, he has scored 10 goals in all competitions in 2019/20, despite being used as an Attacking Midfielder on Support Duty. I think 2020/21 is the season where I finally slot him into the team as a Support Striker...so expect goals.
There's also hope that Remo could set Euro 2020 alight within a very capable attacking quartet for Switzerland. As predicted in the last Diary post, Remo could: "could creep into the Euro 2020 squad unnoticed and shock International football..."
Keep an eye on my Twitter over the next few days to see how Remo does in Euro 2020. Also, for those wondering, I will of course continue to blog on the progress of Marco & Remo. Despite Marco's departure, he is still Grasshopper Alumni and, who knows, he may someday comeback...
Thanks for reading and for those that are only just encountering the 'Diary Posts', here are links to previous instalments:
FMG