Last week saw the 1st part of my 'Homegrown XI' feature blogs. It's aim is to document my journey towards developing a successful Homegrown XI. Firstly, let's clarify the two types of homegrown status that I will be talking about further on:
Homegrown (HG): A homegrown player will be defined as one who, irrespective of his nationality or age, has been registered with Grasshopper Club Zürich (GCZ), continuous or not, of three entire seasons or 36 months prior to his 21st birthday (or the end of the Season during which he turns 21)
Homegrown in Nation (HGN): also known as an 'association-trained' player. This player fulfils the same criteria as above but with another club in the same association/nation.
Developing and integrating homegrown talents is a challenge in Modern Day football, especially at the upper echelons of club competitions like the Champions League. However there are two examples in the last 20 years (technically 21 now) where a club has been bold enough to use homegrown talents and deliver success in the Champions League. You should all know them very well: Ajax of 1995 & Barcelona of 2011.
Note - there are other success stories like Porto of 2004, who had a starting XI of 9 HGNs when they won the Champions League. But for the purposes of today's blog, and my GCZ save in general, I am more concerned about 'true homegrown': HGs.
Ajax 1995 - Blind faith in youth
The Ajax team lined up against Fabio Capello's AC Milan with 9 HGNs (incl. 7 HGs) with a 4213, but during the game it was more like a 3331, with F. de Boer & Reiziger pushing in centrally to make a back 3 with Rijkaard occupying a more advanced defensive midfield position. The 3 defensive players could handle Milan's Gullit & Savićević who were the front 2 of a rigid 442. (You can see why the English FA were so excited to get Capello!)
Anyway, Ajax won 1 nil. It showed the rest of Europe that Ajax was once again at the forefront of youth development. However whilst Ajax celebrated their win, there was another 'Ajaxman' (Johan Cruyff) over in Catalonia that was putting the seeds in place to trump Van Gaal in two ways: as much HGs as Ajax 1995 but with more beauty....
Barcelona 2011 - Dream Team v2
Barcelona won the Champions League in 2011 with 7 HGs and 9 HGNs (which included Dani Alves who moved to Spain at 18). Barcelona beat Manchester Utd 3-1 but in a way which led Alex Ferguson to proclaim the 2011 Barca as the best team he had ever faced. The man in charge was Pep Guardiola who would credit Johan Cruyff as one of the main inspirations and catalysts for success.
Both Ajax of 1995 and Barcelona of 2011 prove that nurturing homegrown talent, whilst winning the greatest club prize IS possible. It also set out the aim: equalling of improving on the 7 HGs and 9 HGNs that both teams achieved. For GCZ, the challenge is accepted...
Squad Building at GCZ - the 5 year plan
The date of my current save is 01 January 2020, we're top of the league in Season 5 and on course for a 5th consecutive league title. The current best X1 (when everyone is fit) contains 4 HGs:
However, serious work is needed to get anywhere near to Ajax and Barcelona's HG achievements. Fabio Daprelà is already 28 years old and Levent Gülen (25 years old), despite not being exceptional quality, is attracting interest form Serie A. It could be assumed that both these HGs will leave GCZ within 1-2 years. Therefore I need to think ahead and squad build, I've ambitiously planned 5 years into the future based on my current assessment of the U18s and U21s.
Now that I know the formation and tactics I want to play (as discussed in last week's blog), the team in 5 years time is shaping up as two variants of 4123 (possible 433s based on how you view fluid tactics):
Here are the 9 HGs identified as First Team compliant from 2020 (in some cases well before):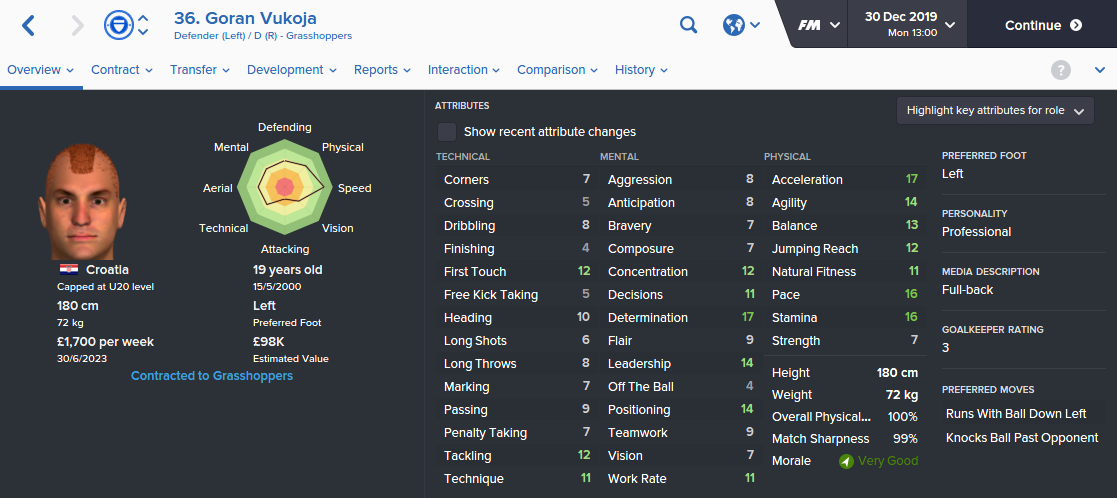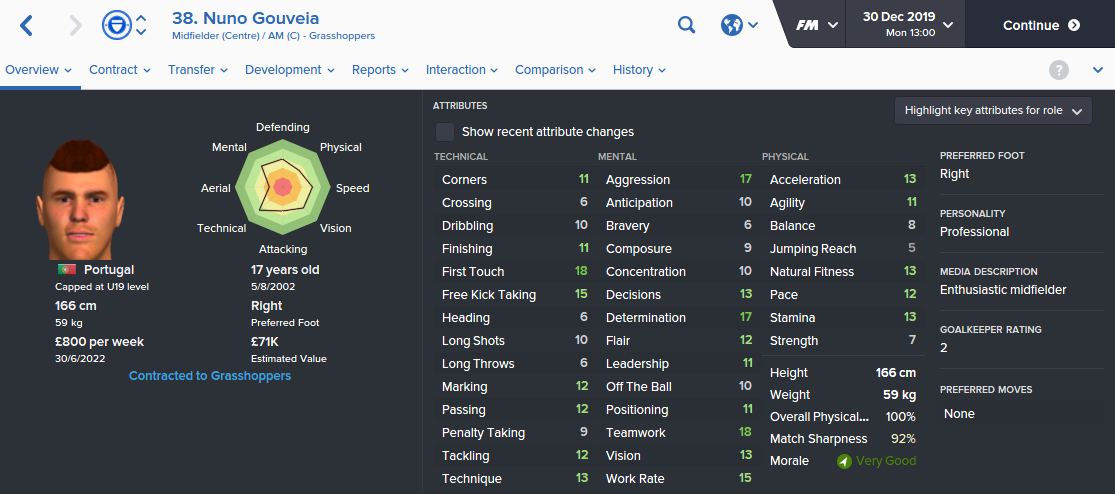 Questions remain as to whether I can keep the Regen International due of Marco Simon & Remo Mahrer (which will be discussed in a future instalment of the Marco & Remo Diaries). Marco is the Captain of the team but has an inflated ego at present preventing him from extending his contract with GCZ. Remo Mahrer is good in the AMC role but, at present, not a prolific ST. His development will largely dictate whether I need to develop an exceptional Striker...hopefully a Kluivert or Messi (easier said than done right?). The striking options that currently lie within the U18s are Hotz (16), Tarone (18), Todoric (18) and Thurnheer (18), see below: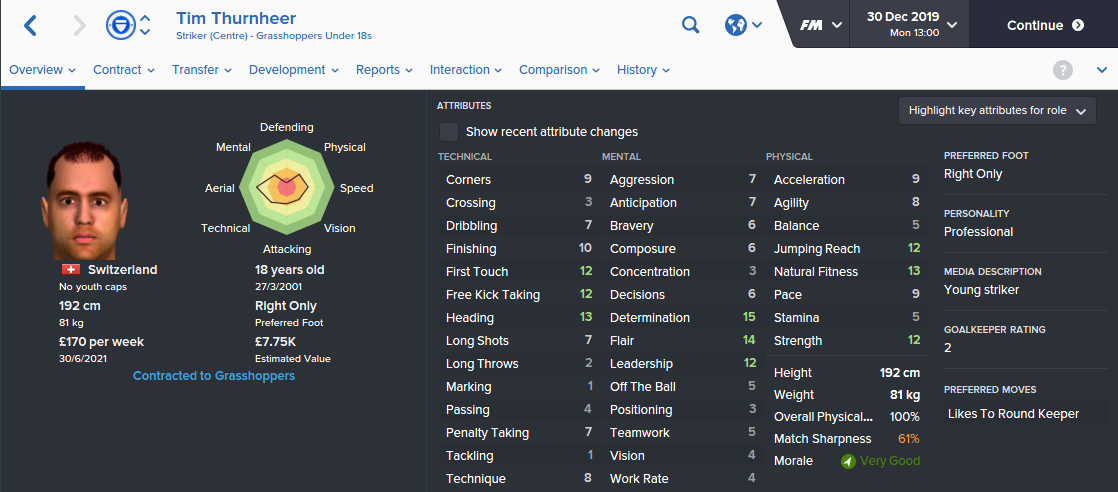 There's also a decision to be made at the GK position, mainly whether 19 year old Ivan Pajic can step up and be First team ready within 5 years...
By mapping out a Homegrown XI for 5 years time, I can see where I need to turn my attentions to, namely RB, LW and ST (and probably GK - sorry Ivan). This drives my recruitment policy and really helps avoid those panic buys or overloading the squad in a certain position.
I now either have a choice of developing the current HGs I have in the U18s or recruiting externally...either bringing in Swiss HGNs or overseas youngsters from 18 years old (and training them for 36 months before 21 years old...thus becoming HGs). Doing all of this whilst continuing to be successful is going to be really interesting. Stay tuned on updates and see if I can better the 7 HGs of Ajax '95 and Barcelona '11 in the next few months (which will most likely take me into the Summer).
Thanks for reading and please feel free to share any opinions you may have on the youngsters I've shared with you today.
FMG