90+1 and 120+1. Two critical minutes in two separate games that highlighted the great weakness of my team in Season 9. In each occasion Galatasaray had scored, to swing both legs of the 2nd Knockout Euro Cup tie in their favour - 6-5 on aggregate. Out of Europe once again in the most frustrating of circumstances, a behavioural trait all to familiar for Grasshopper fans:
Season 1 (2015/16) - Not in Europe
Season 2 (2016/17) - Euro Cup 2nd Knockout Round
Season 3 (2017/18) - Champions Cup Group Stage
Season 4 (2018/19) - Champions Cup Quarter Final
Season 5 (2019/20) - Euro Cup 1st Knockout Round
Season 6 (2021/22) - Euro Cup Quarter Final
Season 7 (2022/23) - Champions Cup 1st Knockout Round
Season 8 (2023/24) - Euro Cup 1st Knockout Round
Season 9 (2024/25) - Euro Cup 2nd Knockout Round
Season 10 (2025/26) ?
To have regular European football beyond the Swiss Winter Break is an achievement in itself, we are habitual underdogs fighting against a breed more powerful than us in stature and in wealth. Yet there is something missing in those games, a quality that is independent of affluence & reputation: the mental state of Concentration & Decision Making. Today's blog serves as an introduction to my tenth and final season in Zürich, managing Grasshopper Club Zürich (GCZ). I will discuss the remedies to correct the lapse in concentration that has plagued my team in recent years and the platform in which I have tried to build for GCZ to continue the successes without me.
Postponing the Homegrown XI?
Back in Season 7 I evaluated the Homegrown prospects in the Club that had made it near or into the 1st team squad. I had at the time FIVE capable Centre Backs that were good enough to sustain Domestic success: Bianco, Zwicky, Manco, Upamecano & Loosli. The real question back then was whether they could step it up and develop further, as discussed:
"Despite not being ball players, all five will make competent CBs in the Swiss League. Only time will tell if they can step up and cope on the Continental scene".
Bianco (now at Servette) moved on that Summer after failing to improve his game. Zwicky followed a year later after being sold to St. Pauli, as I battled to keep the club afloat from Financial Fair Play. For Season 9 I was therefore left with a Homegrown trio of Manco, Upamecano & Loosli, who by now were 24, 25, 26 years old respectively. This was their time to establish themselves on the Continental stage...
90+1, Zürich
So the tie is delicately poised at 2-2 against Galatasaray in the 1st leg of the Euro Cup 2nd Knockout Round. What we really need now is to accept a draw and attempt to win the 2nd leg. To concede again would be devastating...
The Concentration and Decision making is very poor here, we're actually starting from a decent shape yet we've allowed ourselves to get sucked in (Upamecano) or remain stationary (Manco). Ultimately it's a great finish from Dani Olmo...but he should never been allowed to get a shot away. Upamecano's Decision to occupy the same space as Manco and my DM Fede's overzealous pressing meant the one pass Ristic could make was made easy for him. Here's the painful goal in it's glory, we lose 2-3 at home and need to score at least 2 goals in Turkey:
120+1, Istanbul
"Mistakes are meant for learning, not repeating"
It's one of the fundamental principles I have installed at GCZ, and I accept young players make mistakes But the Centre Back pairing of Manco & Upamecano can no longer be considered young, they are 24 and 25 years of age. Below shows a real mess in the CB positioning and also the poor positional play of my DM, Fede again. This was seconds away from a Penalty shootout, after GCZ battle bravely to be winning 2-3 away from home...
It's a complete disaster, one which you can read through at your viewing pleasure on Twitter, as I live tweeted the fucker (it's full of emotion). If you do not have Twitter, then see the goal here:
Nevertheless, in these two key moments (90+1 and 120+1), I knew I needed to change the Centreback pairing and also recruit a high quality Defensive midfielder. I had been overly loyal to these Academy players, who certainly showed real potential at 20-23 years of age, but they have peaked. It's time to say goodbye with the stage now set for juggling the precarious finances at GCZ once more and give Europe a real go in Season 10...
New recruits
My quest for decent CBs and a DM was made easier by being 9 years into a save. I had a number of targets who were already scouted and reviewed. I'm delighted to say that I landed my top three targets: Willi Orban, Christoph Kramer and Regen Centre Back: Zoran Dragovic. All three for £7m.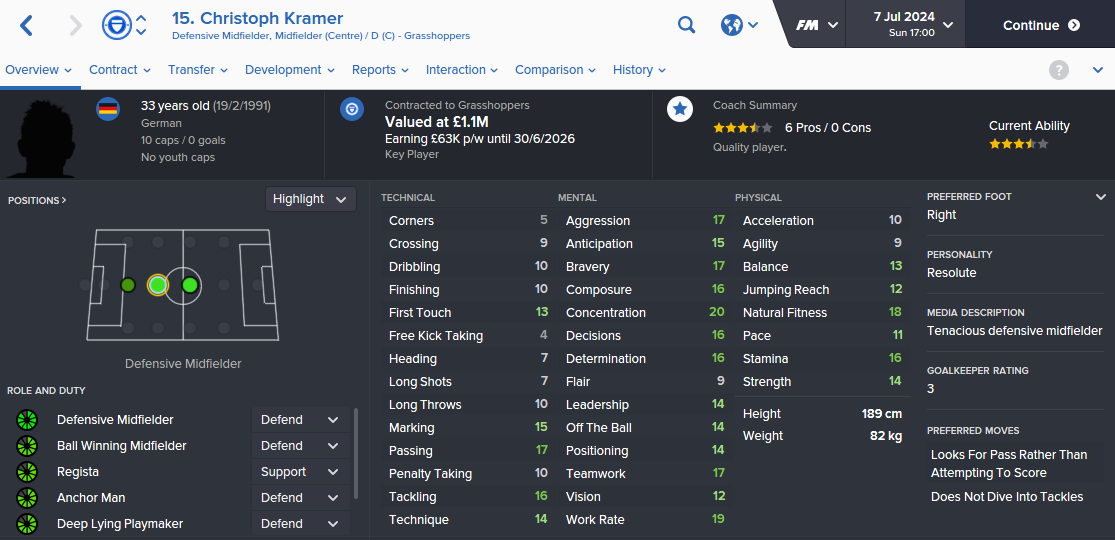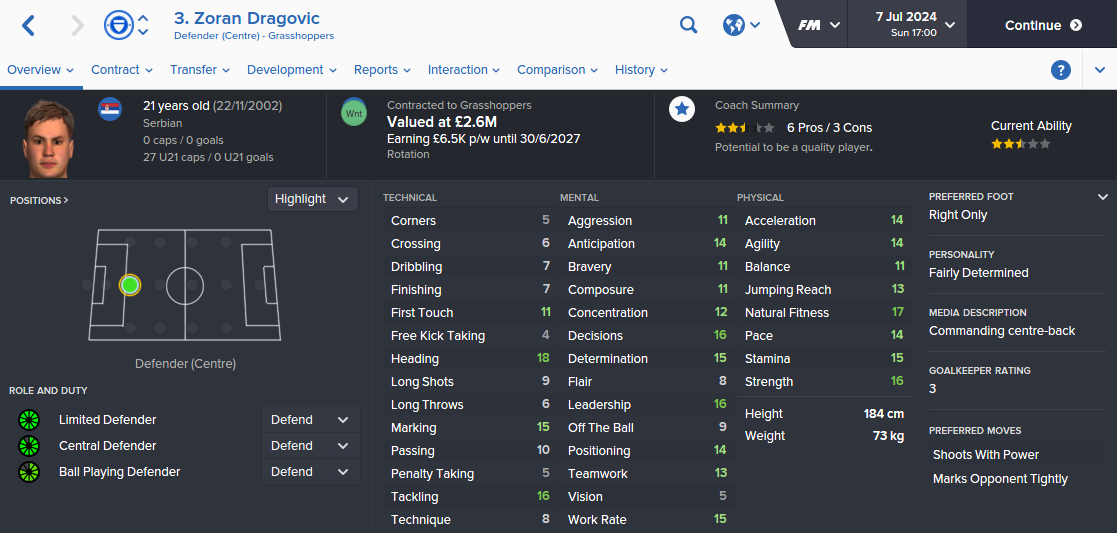 Orban and Kramer, despite their advancing years, offer superb Concentration and experience. Zoran Dragovic on the other hand will only get better, who I already consider an upgrade from the trio of Season 9: Manco, Upamecano & Loosli. In fact, we've already waved goodbye to two thirds of the Homegrown CBs, with Upamecano leaving on a Free Transfer and Loosli making a huge move to Young Boys. Manco is the only survivor, saved by his versatility at Right Back and his low wages. 27 year old Vice Captain Fede also stays, who will serve the last year of his contract as back-up to Kramer.
The beginning of the end
It's only fair that I leave GCZ in a better financial state than when I joined in 2015. Despite this being 'only a game', I want to leave GCZ with a platform to do well in future years (as I plan to simulate 10 years into the future after Season 10 is complete).
Therefore the ruthlessness in the Sales Transfer Market didn't stop at Centre Back, as we waved goodbye to GCZ icons: Club record scorer Moussa Konaté and Homegrown talents Nikola Gjorgjev and Nedim Bajrami. The next GCZ manager will certainly not have to worry about Financial Fair Play or juggle the books in his/her's 1st season like I had to. The overall balance entering Season 10 is close to £40m.
So this is it, the beginning of the end. The squad I have now is the one that people might remember me by - it has exceptional Homegrown Academy talents in and around the 1st team and their future is bright...but it's now combined with players containing high levels Concentration and Decision Making. Let's hope we rock the Continental dance floor one last time...
As ever, thank you for reading. I will be playing my final season throughout September, I hope to live tweet the odd European night, if time permits. Stay tuned for more late late drama :-)
FMG