Thursday 22nd February 2024 - There has never been a more apt time to write a Marco & Remo diary post. This is because £43m rated 24 year old Marco Simon returns to the Letzigrund to face off against his boyhood club - Grasshopper Club Zürich (GCZ). Marco now plays for Olympique Lyonnais (OL), and if you are yet to read his journey to stardom...see the previous 5 blog posts below.
Part II - Invincible
Part III - Breakthrough
Part IV - Heartbreak
Part V - Icons
During the Part V, I had pretty much lost all hope of bringing back Marco Simon to the Letzigrund. Marco now commands a World Class transfer fee and because of the Financial Fair Play Fiasco outlined last week...it's near on impossible to bring him back. However, this saves unpredictability can never be questioned...as in December 2023, I was drawn against Marco's OL side in the 1st Knockout Round of the Euro Cup. Marco was coming home.
Today's blog therefore is a summary of our two legged skirmish. Remo Vs Marco, Zürich's two prodigious talents.
1st leg: GCZ vs OL
On a wet Thursday night a near capacity crowd of 24,581 turned up to see Marco Simon play a decisive role in a 1-1 draw between the two clubs. Marco played in a narrow 4-4-2 diamond.
He played with all the Box-to-Box traits that I had added to his game since he was 16, with 43 completed passes with 6 being key. He mixed up his game and covered the 3 midfield stratas with ease. All despite my best efforts to close down at all times and tackle hard. Marco simply showed his class.
His homecoming was sealed on the 81st minute strike, where Marco showcased his predatory instincts of 'Gets Forward Whenever Possible' & 'Gets Into The Opposition Area'. The PPMs I helped train have come back to haunt me! Here is the all important away goal to break my heart:
The game was pretty even, and I had my chance to seal a vital victory when Noah Loosli was tripped in the box on 87 minutes. Sadly Richairo Zivkovic couldn't make it count, with Super Regen Keeper Julien Jacquet saving well.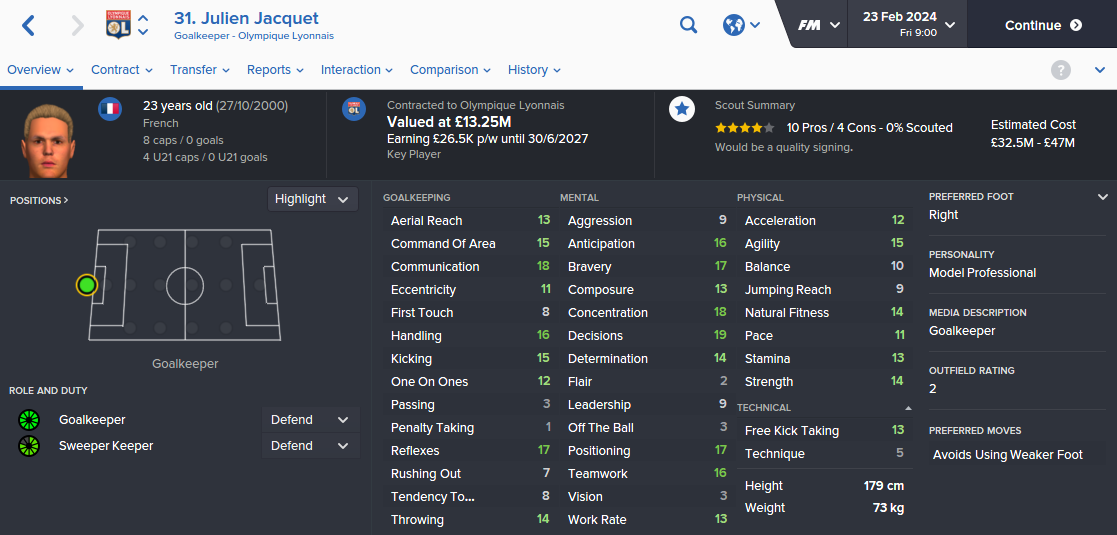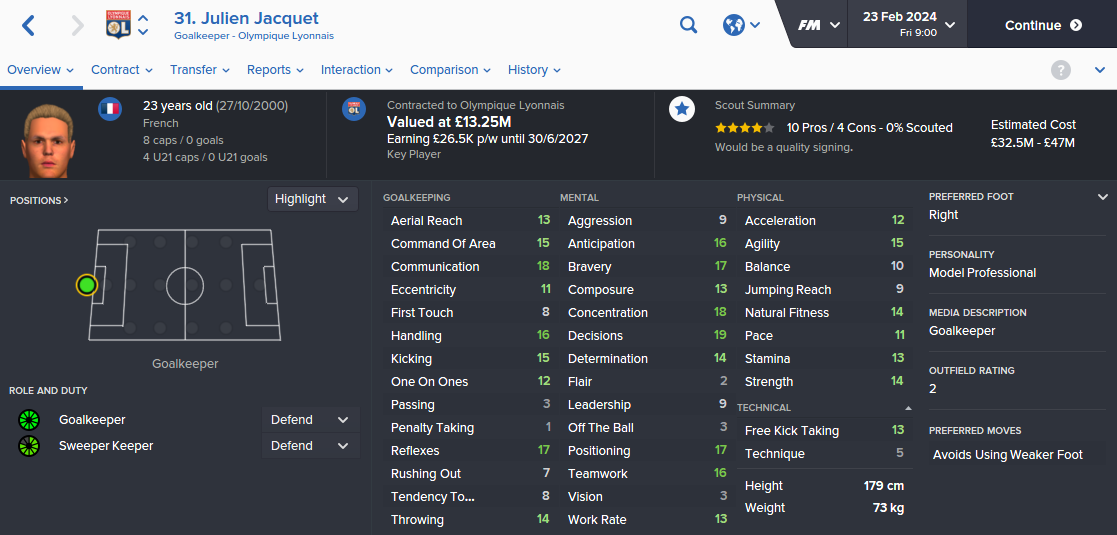 Remo Mahrer on the flip side had a dreadful game. Twice thwarted by Julien Jacquet in the OL goal early on, he had an ineffectual game. I was disappointed - and showed no hesitation subbing him when he went down injured on 64 mins. Here are his passing contributions for the 63 mins he played:
With only 7 days between fixtures, Remo had a race against time to get fit for the Second leg...
2nd leg: OL (1) Vs GCZ (1)
I entered the 2nd leg in buoyant mood, despite not having a left back (loan Regen Luca Cioffi was suspended) and Remo Mahrer ruled out through injury. Last year we had gone away to Monaco and won 2-1 and our away form this year in the league had been red hot (7-1 away win at Young Boys and 5-0 away win at Basel). The mentality of those matches was to attack but I had to be conscious of OL's attacking threats - they already had the important away goal and could counter me.
GCZ lined up with a disciplined focused 4-4-1-1 with two DMs. I had to counter Mexican Right Back regen Cesar Hernandez's ferocity. Cesar was a trialist only a month ago at GCZ, but I couldn't conclude the deal due to FFP and him wanting £60k wages per week. My Left Back area was decimated so Centre Back Dayot Upamecano played with Vlasic's attacking talents being sacrificed for a Defensive Winger role on man mark duty. I don't normally go to these great lengths to stop a player, but with no recognised Left Back in the squad...I was compelled to do so. Marco Simon proved in the previous match that he can bypass my micro-management skills, so I left him untouched and decided to punt on Julian Weigl & Fede causing the AI problems.
...We did it! A solitary strike from Richairo Zivkovic was enough to see us through. In truth, the game way scrappy and I rode my luck on numerous occasions. But I am happy that tactically my left side weaknesses were not exposed - I had to sacrifice a lot of my attacking threat but it paid off. My first European Knockout progression for 3 years.
HOPP GC!!!!
Marco Simon had a standout game, despite not progressing with OL into the next round. He gave a Man Of The Match performance, with 63 completed passes with 9 key. He also dominated physically, winning 13 of the 15 headers attempted. It was Marco that dominated the midfield once again, not me. But football is a cruel game and GCZ progress.
So, I survived the encounter with Marco Simon - the best Regen I have produced at GCZ. It will be interesting to see what's next for Marco. He is currently £43m rated and has one year left on his deal at OL:
If he does leave for a transfer fee during the Summer of 2024, I am due 30% of whatever profit OL make on him (signed for £20m). So he could save the club financially once more. As for Remo Mahrer, he has another two European nights to show his talents and right the wrongs of the 1st leg...
As always, thanks for reading.
FMG