Bohemistics/Bohemistika - The study of Czech histories, language & literature.
Slivovice - a Central or South-East European plum liquor, deriving from the slavic word for 'damson plum'. The Devil's drink. Drink with caution.
Intro
The FM Community is extremely privileged to have someone like Keysi Rensie around. Privileged because he is always available to help others, whether it's through a blog post/guide or answering a simple query via Twitter or Slack. In addition to helping anybody who asks, he also has amazing FM saves to share. His devotion to the 'One Club' save in the last two editions of Football Manager have been thoroughly enjoyable to see unfold. His latest save in FM17 with Reading is like a Diego Mendoza fine wine...or a Chirs Darwen kimono...'class'.
Reading, England was therefore the next logical destination in my 'A.Bastardo On Holiday' series, which concludes as a trilogy [for now]. If you are only just joining us now, re-visit Ángel Bastardo's exploits in both UAE and Japan below:
Chapter 1: "When Bastardo met Mendoza"
A Bohemian Rhapsody in Reading
Ángel Bastardo had never met Czech born Keysi Rensie, undoubtedly Europe's most successful manager in the last decade. 28 trophies, including 4 Champions League and 3 Club World Cup wins for Reading FC had propelled many around the world to title Keysi Rensie as 'the greatest football manager EVER'. Respected Czech manager Zdeněk Zeman had even labelled Keysi the most influential Czech ever...in front of famous figures like Charles IV (the Holy Roman Emperor), Sigmund Freud & Martina Navratilova. Chris Darwen, the kimono wearing Englishman in Japan, who Bastardo had just left, had said that Keysi was writing his own 'Bohemian Rhapsody' in Reading. A clever play on words from the eccentric Englishman who had to explain it to Ángel Bastardo:
Bohemian - all things from Bohemia, Czech Republic's largest historical region.
&
Rhapsody - a musical term for a free-flowing, improvised, spontaneous piece...much like Keysi's style of attacking football, that had forced the World to take note of 'The Royals': Reading FC.
Now instead of writing a biopic about Keysi's time at Reading, a simple Infographic put together during the 13 hour flight from Tokyo to London Heathrow should suffice.
A 'world class' football manager from the Czech Republic was probably always going to arrive in the English Premier League at some point. The Czechs are 'probably' the most successful exporters of good-to-exceptional footballers out of the ex-Soviet Eastern Bloc countries (Bulgaria, Czech Republic, Hungary, Poland, Romania & Slovakia). Especially into England's Premier League: Milan Baroš, Patrik Berger, Petr Čech, Tomáš Rosický & Vladimír Šmicer to name 5 of the 25 Czechs to have ever played in the English Premier League. The Czech Republic, with a population of 10.5 million, seriously outperforms the bigger nations of Poland and Romania as the chief exporter of players into the Premier league. There are other exceptional Czech players that English fans were unfortunate not to see, like the supremely talented duo of Pavel Nedvěd & Jan Koller.
So there was a certain amount of trepidation when Ángel Bastardo walked on to the Reading FC training pitches for the first time. He was yet to meet Mr Keysi Rensie, who instead opted to let his entourage meet with Bastardo and bring him here. Bastardo was sure Keysi would be the traditional 'Tracksuit Manager', wearing a baseball cap and Diadora trainers...after-all Keysi was the author of the now famous publication: 'The Keysi Way'. A memoir of his training set-up that contributed to Reading's four Champions League wins.
Yet Bastardo couldn't have been more wrong. Keysi Rensie was a well suited man, but it wasn't the texture or the fabric which grabbed Bastardo's attention. The suit was bright blue...almost as blue as the February Winter sky. Furthermore, it wasn't just the blazer that was blue...trousers, socks, glasses and cuff links all shone in the sunlight. Illuminating the training pitch as if the flood lights were on. Despite the inappropriate training attire, Keysi Rensie oozed class: softly spoken and polite but still earning the attention of all 25 players and, of course, Ángel Bastardo who was here to learn from the master himself...
The Slivovice Set Piece
"I don't think I would ever have played football if free-kicks had never existed" Siniša Mihajlović, Serie A legend
Creating an attacking set piece, whether it is a corner, freekick or throw in, is a chance to show tactical innovation in the attempt to create a goalscoring chance. Estudiantes de La Plata's legendary coach Osvaldo Zubeldía was one of the first coaches in South America to thoroughly exploit set pieces an win intercontinental honours, so much that it became a fundamental part of Estuidantes' play and subsequent success (three straight Copa Libertadores titles: 1968, 1969 & 1970). It was akin to a military option, with Zubeldía often motivating his players by taking them to watch La Plata commuters on their way to work prior to training, as recalled by Estudiantes midfielder Carlos Pachamé in Jonathan Wilson's 'Angels With Dirty Faces' book:
"When Zubeldía wanted to motivate us, he would take us all to Retiro train station at 6am to watch commuters. 'You believe you are workers', he would tell us, 'You are not, they are! Don't ever forget that'...and he was right"
Zubeldía manged a well drilled side, making the most out of set pieces...and Bastardo could see the parallels with Keysi Rensie. After all Rensie, like Zubeldía, had taken a relatively young team and made them great...before anyone had realised. The set piece was a vital part of the Keysi Rensie arsenal. The innovation to create that quick clear cut chance, was what Keysi called the 'Slivovice Set Piece'. When asked by Bastardo what he meant, Keysi replied:
"Set pieces are like brewing slivovice, the process in creating a good set piece could take months. Months of experimenting to see what works and doesn't, evaluating the players' suitability and then executing it on the pitch. Basically: find the right plums, harvest them and then let them ferment...sometimes the process can take months, especially if you have a cold Czech October & November"
Ángel Bastardo had heard Diego Mendoza talk of sieges and trebuchets in Abu Dhabi, Chris Darwen had been similarly crazy with his talk of kimono parties on Okinawa...but Keysi Rensie was definitely the next level of revolutionary in Reading. So, Bastardo decided to go with the slivovice idea and ask Rensie to help work on some routines...
The Short Freekick
3, 2, 1...Goal (Zanetti 45 mins +1). Three touches, two seconds, one goal. That's all that was needed when Argentina's Juan Sebastián Verón & Javier Zanetti combined to score against England in the 1998 World Cup. This is probably THE archetypal slivovice set piece: effective, simple & quick.
Like Bastardo, Keysi is a huge fan of this legendary goal and has built a lovely routine into Reading's play. One where the freekick taker has plenty of options with a player moving off the shoulder of the opposition wall. The opponents are expecting a deep cross or shot...not an intricate pass à la Zanetti in '98.
How how does the routine look in Football Manager 2017? See Keysi's setup below:
We also need to consider the appropriate attributes to fulfill both the roles of the 'Dreamweaver' freekick taker (Verón) and 'Gunslinger' scorer (Zanetti):
Dreamweaver (FK taker): Passing & Vision
Gunslinger (Goalscorer): Finishing, Composure, Decisions & Off The Ball
Once you have the setup and the right players, it's then down to the match engine to do the work. Below is a nice example from Keysi's Reading. The freekick is further out than the Zanetti 1998 example, showing that short free kicks can be effective from just about anywhere in the opposition half: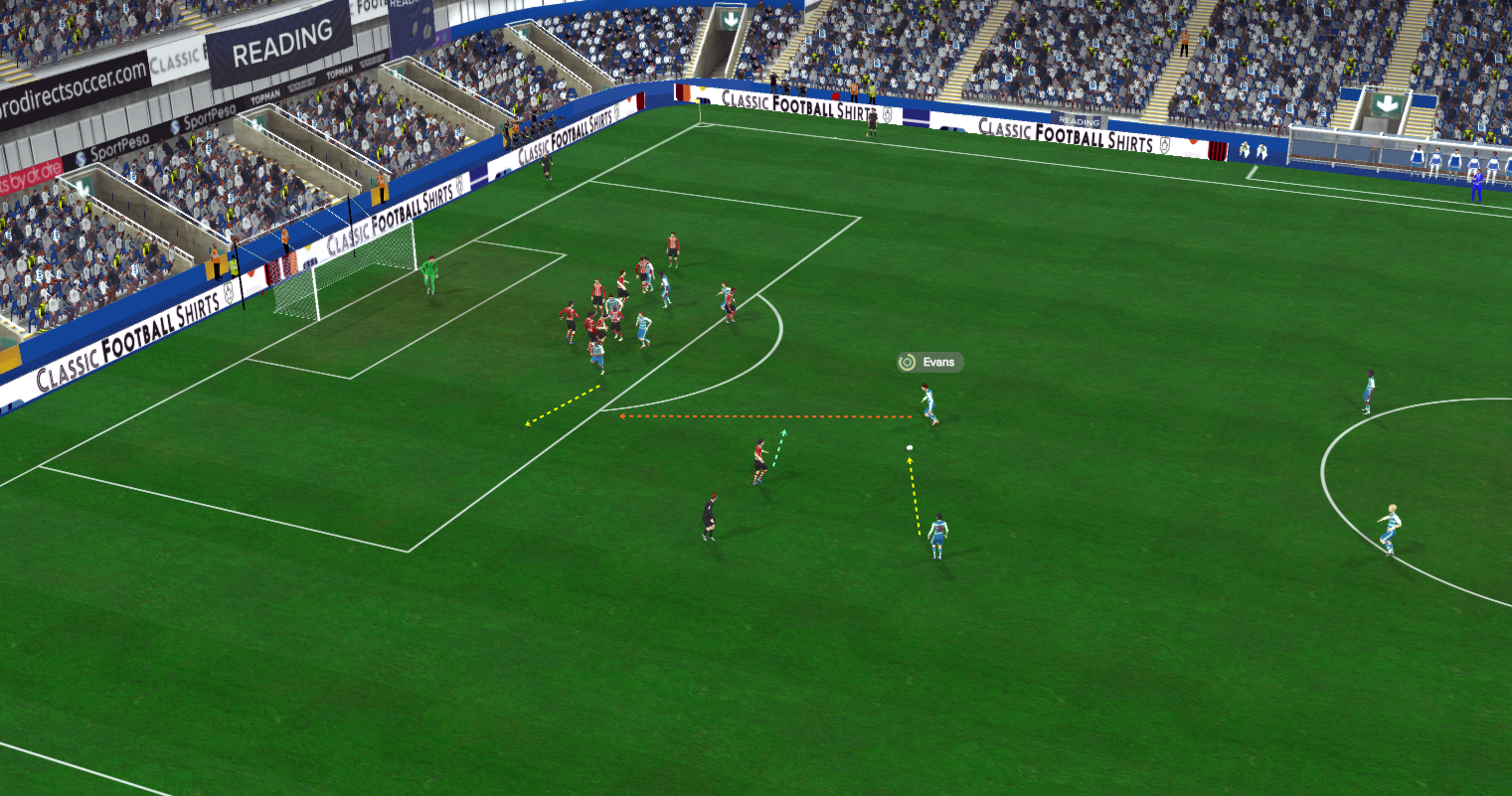 The Short Throw In
When teams get desperate for a goal they usually go direct by launching a long throw into the box. How many times do we see teams end up doing this and how many times do we see it pay off? We probably forget the 99 times it fails and instead remember that one time where the flick-on takes it into the path of one of your players...who gladly rifles it into the net.
Keysi's teams are an advocate for the opposite technique: the short throw in. Maybe it's a few seconds longer than throwing it in direct style...but as the cliché states: "it only takes a second to score a goal". Keysi's methods on the training ground were about good movement, as shown from another page of The Keysi Way.
And here is how it pans out in the FM17 match engine:
Offering the short option initially looks like the chance has gone...but in just a few interchanges we have our clear cut chance, from our slivovice set piece.
Keysi's training ground routines were lengthy, but time was made for an evening soirée in London with his coaching staff to discuss an upcoming game against Man Utd. Bastardo was the guest of honour, occupying the main table with Keysi. It was time for a Bastardo-Rensie Q&A...
AB: Keysi, thanks for inviting me here. Seeing your commitment and dedication on the training ground, and devotion to Reading is inspiring. Did you expect to be here after 10 years?
KR: I have to say yes, I expected it. The reason is very simple as a board of Reading FC finally set the realistic expectations at the beginning of our first season together so there was not a big pressure. We overachieved all the expectations in the first season as we were in the Championship Play-off Final and this really helped me and the team itself because we get an enough time to work and develop young players. But mainly I'm the traditional and old-fashioned man who still believe in the "one-club" culture. And it doesn't matter if it's a player or a manager. I like to stay in one club for many years.
AB: Do you think not being promoted straight away from the English Championship actually helped your meteoric rise once in the Premier League? As a number of young players really grew for you in your early teams and were then able to cope with the demands of top-flight football.
KR: Definitely. You're right. If we were promoted in the first season I'm sure our first team squad would look absolutely different because we would need massive strengthening and that would mean a lot of money and I'm too big of a financial fascist and I don't know how to spend big money.
But back to our own players. They were perfectly prepared for Premier League after three seasons in Championship. Players as Liam Kelly, Jake Cooper, Josh Barret or John Swift developed themselves from promising youngsters to key players thanks to a lot of playing time in the second tier where you're able to play a lot of tough games.
There were another very important thing in our successful step from Championship to Premier League. Our tactic. I don't want to say my tactical approach is perfect or "The Best Tactic You've EVER Seen" but it was important that I changed our formation before we moved to the Premier League and we knew what we want to play for several months and we played both competitions with almost the same line-up and our players were used to all things.
AB: You mentioned you don't know how to spend BIG, what is the biggest deal during your time at Reading?
KR: The biggest deal so far was a transfer of midfielder David Iribar for a fee around 6.75M but he was sent for a loan spell because he did not receive work permit so there is a possibility he will be sold in the future if he will not receive work permit. If we don't count this transfer the biggest fee was 5M for central defender David Christie before the 10th season and 4.3M for midfielder Alfredo Acuna in 2022/2023 season. If you consider transfer fees around the world it's ridiculous
AB: Danny Loader is obviously one of the greatest players ever to have played for Reading. Did you realise you were on to something special from Day 1 with this guy?
KR: I had a couple of young players in my mind before I started this journey with Reading and Danny Loader was one of them. I wanted to build a team around the trio including central defender Jake Cooper, attacking midfielder Liam Kelly and forward Dominic Samuel. They were my main men at the beginning.
Danny Loader was the youngest player in the club before the 2016/2017 season but I promoted him straight to the First Team at the age of 15. His development was gradual as he played mainly for youth and reserve team but he also got some playing team in FA Cup or EFL Cup.
And then, in our first Premier League season, some players were injured including Samuel and Loader got his chance. And he became our striker number one as he scored 16 goals in 35 matches. After the 10th season he is valued at 36,5M and he now has 230 goals in 395 appearances for the club with an average rating of 7.34 in all competitions. Meanwhile, players like Kelly, Obita, Cooper or Samuel are around their thirties, Loader is still 25 years old so he has a lot of years for scoring many goals...
AB: 'The Keysi Way' is now a commonly used term used to describe quick attacking football. What would be your one tip for managers looking to implement their own style on a club like Reading?
KR: Playing time. I know sometimes it could be hard to stay a little bit conservative and give your players enough time, especially when everything is not good in your eyes in terms of football you play or you would want to see more from them but I like to give my players some freedom and I like to give them a room they are familiar with their positions and roles.
Loader or Kelly will be not that good if I would change their roles every four or five matches. And don't be afraid to experiment. I've never played with the narrow formation with no wide players in previous editions of the game but I tried it this year with 4-3-3 and 4-3-1-2 and I was patient. Same as my players.
AB: We're around the mid-point of the FM17 schedule, with FM18 probably arriving sometime in Oct/Nov 2017…what next for Keysi Rensie during these next 5 months? Is staying at Reading for another Decade an option?
KR: I'm sure you'll find me here [at Reading]. My main aim is to continue with my favourite players until they will retire or they will want to go for a new challenge. Some of them already left Reading because they felt they achieved everything here and they're right. We won all trophies we were able to. I understand that a new challenge in the new club could be interesting but why not to stay and add some other trophies here?
I know we will not win every trophy every season, especially when players from the original squad grow older and older and we probably will fight in the mid-table but I still enjoy cooperation between Kelly, Loader, Barrett, Samuel or Cooper and some of the talented youngsters who can be our own stars in the future. And if everything will be to the liking I look forward to the time when we will have to start from the beginning and we will have to build a new team without players from the original squad.
AB: Could I ever convince you to come to South America?
KR: Never say never. My longtime real life friend moved to the South America recently and I talked to him about football there several times and it could be interesting. He also gave me a shirt of Atlético Nacional from Medellín in Colombia and I was really tempted to try to play with them. But I think my next steps will lead to home...
AB: Oooh. A return to Czech Republic, to 'Bohemia', the land of homemade slivovice. I'm sure many in the Football Manager Community will be waiting in anticipation. Keysi, thanks for your time...good luck for the next 10 years, wherever it may be :-)
[W]Inter IS coming
March
All things must come to an end, Ángel Bastardo thought, as the suitcase was packed ready for the return to the South American winter. His visits to the UAE, Japan and now England had certainly made him a more capable manager. But would Estudiantes take him back? Or would he have to leave Argentina and try some other South American nation? The future was undecided and it worried Bastardo. Had he been out of the game too long? Most likely, he had been on holiday for over a year, the Copa Sudamericana & Recopa past successes were distant memories. Fame & fibra were no longer the buzzwords around the area that Bastardo once knew. Fears of becoming the Argentine Alan Curbishley were all too real. Bastardo needed to relax...Bastardo needed wine!
The bottle of Mendoza red in his suitcase was from Abu Dhabi and was 'meant' to be opened back in La Plata, but Bastardo couldn't wait...he sat in the hotel room and drunk alone. He had said his goodbyes to Keysi Rensie a day earlier, who had travelled with his Reading boys to Old Trafford for a league game. The bottle was almost finished when his phone rung...an unknown number, from a dialing code that Bastardo did not recognise. Call ignored.
But it rung again. Then a third time. Bastardo finally answered on the fourth. It was Erick Thohir, Internazionale Chairman. They had sacked Frank de Boer and wanted Bastardo. Just like that, Bastardo had accepted the offer. Blame the Mendoza wine, or the fear or returning home. Bastardo was staying in Europe for a little while longer, the fibra Gods had answered the desparate plea.
Inter is coming...