Intro
It is impossible to talk about Bastardo's Estudiantes without mentioning Jesús Medina & Emanuel Reynoso. Two players who have lit up the Estadio Único turf, in what has become a trophy laden period at the club. We therefore focus on these dreamweavers in today's post, who hold a special place in my heart. Think of this as a eulogy/tribute as we enter into the Autumn of this save.
But first I'll update readers on the business end of Season 2022/23, which has been yet another roller coaster ride...
Season 2022/23
Argentine Superliga
I was desperate to retain a league title, it usually settles debates between what makes a good team and a great team. But it shows just how great you have to be sometimes, Boca Juniors were consistent all season. Our 2023 form was solid: 13 wins, 4 draws and 1 loss. But it was not enough to prevent final day heartbreak, where Estudiantes drew 2-2 against Sarmiento de Junín only to see Boca Juniors win 1-0 away at Vélez Sarsfield. The title returning to the Capital, after a one year stay in La Plata. 1 point the difference.
Copa Libertadores
For the first time in 6 years we've finished up with a maximum of 18 points (6 wins) in the Copa Libertadores Group Stages. Bastardo has always been blessed with easy groups (the perks of those underhand payments to CONMEBOL), and as a result we've come close to achieving this feat three times before (16 points, 5W & 1D). But to finally get that 100% record in the groups is rewarding.
The usual Argentine and Brazilian powerhouses go through into the Knockouts (including last year's winners Corinthians, who knocked Estudiantes out at the Semi Finals), so the real battle awaits.
Copa Argentina
It's lowly rated in Argentina, but we've made it to the 7th Round of the Copa Argentina. Comfortable wins against Club Sportivo Las Heras de Concordia & Cipolletti de Río Negro mean the dream of retaining this trophy goes on.
Supercopa Argentina
We also won our 8th trophy in the February of 2023: the Argentine Supercopa. You can re-read the Twitter thread of this glorious hammering of River Plate below. 4-1 the final score, Renzo Taborda scoring his 49th, 50th and 51st goal in a La Plata shirt. He has come a long way since I introduced him back in Season 4 (read more here). What a boy!
Zone 13.5
Background
Traditionally, football pitches have been split up into three parts: the Defensive Third, the Middle Third and the Attacking Third. Over the years in Football Manager simulations, we've had this presented to us in this way too:
But as football analytics has evolved, there has been a greater demand to split the pitch further. This trend has filtered into the later Football Manager simulations, where there is now a plethora of statistical information displayed graphically. Such as this on the Tactics/Analysis page:
But for the purposes of talking about Jesús Medina & Emanuel Reynoso in today's blog post, I will be splitting the pitch up even further...into a six-by-three grid to be precise (18 zones). A model developed by pioneering Sports Scientist, the late Professor Tom Reilly. Reilly's model was born from the analysis of France's 1998 World Cup and 2000 European Championship wins. Both victories were largely dictated by France's proficiency 'through the hole', in which Zinedine Zidane flourished as the Attacking Midfielder.
Football coaches obviously already knew of 'the hole', which is situated in Zone 14 (as shown below). But by putting this into a statistical model, players could be analysed and evaluated. It's perhaps the precursor of the shift into more popular False 9 type roles during the late 2000s and early 2010s, where more trickier players could drop from Zone 17 to 14 and cause problems with close control, short passing and quick movements.
Medina & Reynoso
Today is all about Zone 13.5 however: Medina & Reynoso. I am a big believer in not looking at a role in isolation. So much attention is placed on Player Roles and discussion about that specific player and how he will suit the role etc. But his suitability is as much hinged on what is around him. Think about it, what makes a Target Man function? It's as much about what he has to work with around him (players running off him, or players supplying him with fodder etc.) than his actual suitability. Both must be right for him to flourish.
It's what has been so beautiful in my Estudiantes 4141, two guys peaking together at the right time: a Central Midfielder and a Winger, both on Attack Duty. Both complement each other really well which has led me to tailor my tactic to their strengths:
The white text in the above graphic shows their Player Instructions. For Jesús Medina, he is simply an untouched out-of-the-box Winger on Attack but with Emanuel Reynoso I made use of his relative ambidexterity and strong Technical/Mental attributes to Dribble More and make More Risky Passes. All perfect attributes for a player in and around Zone 14.
I also pay a lot of attention to where the strongest foot is in a player, especially my primary playmaker. Reynoso is just magic at driving through Zones 11 to 14. His body shape and stronger left side is naturally suited to make good use of Medina's left sided wing play. I have tried to capture their artistry but have limited it to 4 GIFs (as there are sooo many good moments between these two guys):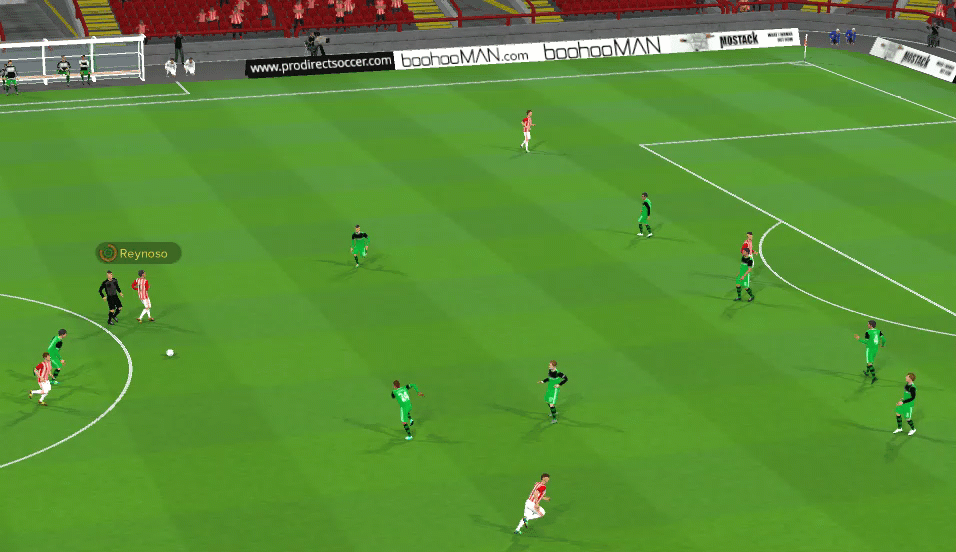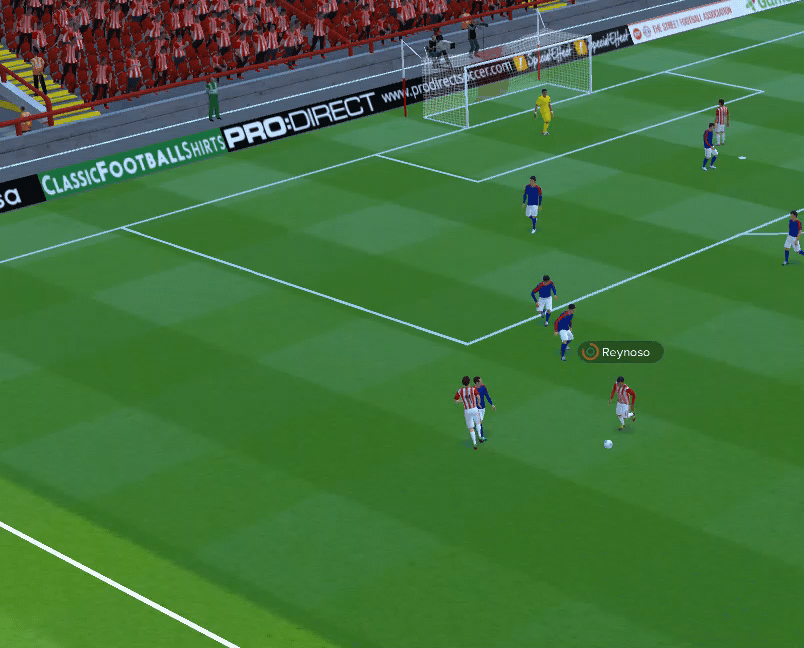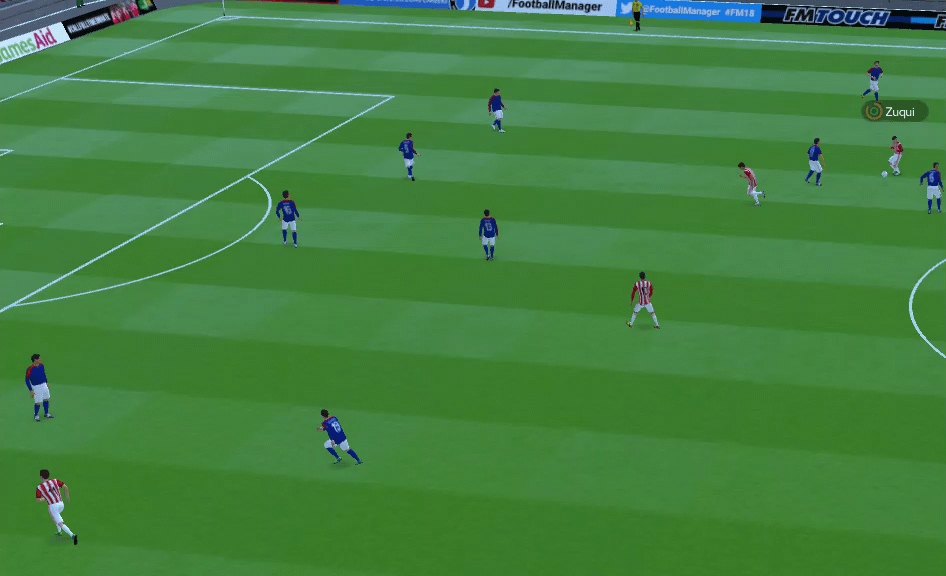 When both Medina & Reynoso are hot, they are often top of the list at Full Time for passing combinations, as shown against Club Deportivo Morón in my final home match of 2022/23:
FM really is quite simple sometimes: get an agile and tricky player, one who possess good composure/vision and get him running around, or into, Zone 14. Then place a runner or two around him, runners who have good movement off the ball and who have an output (crossing, finishing etc.)...then watch the magic happen.
The painful goodbye?
As much as I love these two guys, their relationship with me may be finishing two seasons too soon. Medina has an expiring contract in one years time (2024), and he refuses to be realistic in his demands during contract renewal. Similarly Reynoso is attracting strong interest from the riches of China. If this is truly the end for both in La Plata, I've been blessed for 4 and a half years with these guys. They will always be Estudiantes of La Plata.
Onward to Season 7
So, we sit on an overall balance of €20m and the Board is willing for me to invest all of this sum. We all know that will not happen under Bastardo's stewardship, but handing over the title to Boca Juniors has left a bitter taste in his mouth. It's time to invest in a couple of marquee signings and integrate a few more La Plata youngsters into the First Team, all in the attempt to bring more trophies home before the save is out. Let's do it!
Thanks for reading/sharing/caring.
FM Grasshopper