Hello, this post allows me to break away from my usual Football Manager writing and explore tactical concepts around the World in the attempt to translate them into Football Manager. The aim would be to write about teams that are not at the forefront for most European readers, so there's likely to be no English Premier League or German Bundesliga analysis here!
Disclaimer: interpreting real world tactics and applying them into Football Manager is easier said than done. Often a team will have several systems that are deployed throughout the match based on in-game scenarios and events, making it very hard to translate this into Football Manager. So I've taken what I think are the key elements of their systems and player roles, based on observing key moments of real-life matches.
First up in my wonderfully inventive series title of "Football Manager Tactics", I thought I would take a look at Racing Club in Argentina, who have recently secured their 1st domestic title since 2014. Manager Eduardo Coudet brought style and panache to Avellaneda in an interesting 4-1-3-2 system that got the best out of older stars like Lisandro López & Marcelo Díaz, and provided younger prospects such as Matías Zaracho the platform to show how good they are.
I don't want these pieces to be overly cumbersome, so let's' get straight into interpreting Coudet's 4-1-3-2. We'll work on Racing Club's Team Philosophy & Formation first, before moving on to Team Instructions and Player Roles…
Team Philosophy & Formation
Between 1913 and 1919 Racing Club won seven consecutive domestic titles and were therefore dubbed 'La Academia', which is still used today when referencing Racing. Their 2019 Superliga win had the spirit of La Academia in place too; amassing the most wins with the best attack (goals scored) and best defence (goals conceded).
Their play was facilitated by a flexible midfield pivot of the central four players, which we'll detail more further on in this post. It encourages shorter passing, as the pivot inter-work with one another which also gave license for two marauding Wing Backs to get further forward and stretch teams wide. The front two, which was often the two old boys of Lisandro López (36) and Darío Cvitanich (34), would complement each other…through López's stretching runs into the channels and Cvitanich's driving runs into the penalty area.
In terms of Mentality there's no questioning that Racing Club's was a positive one. Often seeking to take the initiative in games with a higher defensive line and quicker tempo than their opponents. When possession is lost, the team is known to simultaneously press the opposition in central areas.
In Football Manager 2019 I translate Racing's 2018/19 Superliga winning tactic as:
Specific Player Roles
I do not want to focus on all 11 roles in the team, but it's important to focus on two roles in particular that typify Coudet's 4-1-3-2: the Half Back and the Roaming Playmaker.
Half Back
The adoption of a Half Back system has been an obvious feature of Racing Club's play in 2018/19, the man in that role is defensive midfielder Marcelo Díaz, who has the mental discipline to excel in this position.
I've highlighted the Half Back's Key Roles attributed above, and although we can see relatively poor scores in Marking & Tackling; Díaz is cultured enough to recycle possession effectively via his Player Traits. He also has strong ratings in Anticipation, Concentration and Teamwork.
Roaming Playmaker
Díaz's link up with central midfielder Matías Zaracho has been a cornerstone of Racing's build up play. Whilst it's impossible to find a Football Manager player role that 100% relates to what Zaracho does at Racing (because he seems to do a bit of everything throughout a standard match). I eventually settled on the Roaming Playmaker. Zaracho is originally a Winger who has been turned into a central player, under Coudet's stewardship. He is therefore perfect for linking the flexible pivot and driving forward with powerful runs and incisive through balls:
You can see above what Football Manager deems its Key Attributes. Whereas the Half Back has eight key attributes…the Roaming Playmaker has twelve. It's a demanding role and something that 20-year-old Zaracho would need to grow into. Although the early signs are good, he has strong Mentals and fairly good Technicals to complement the in-game description:
Real Life Vs Football Manager
So, I took Racing Club's last game (at the time of writing - 28 April 2019) to see the application of the Half Back & Roaming Playmaker in action. This was a Copa Superliga match (a recently launched cup competition at the end of the 2018/19 campaign) against a team close to my heart: Estudiantes de La Plata.
Below we can see four screenshots in sequence…without getting in to too much detail, here is the crux of my observation:
Guillermo Fernández finding Marcelo Díaz (The Half Back), who is along the defensive line. I have highlighted the gaps that Racing's midfield initially leave in red.

Díaz finds Matías Zaracho (The Roaming Playmaker) who drops into the previously unoccupied space. Zaracho passes simply to the left sided Centre Back (in this case Alejandro Donatti).

The ball is moved forward to Alexis Soto, who I have defined as a Wing Back. Racing's positive mentality is shown with the sheer amount of player willing to get forward (six players in the Estudiantes half).

Lastly, all midfield and attacking options are shown. Racing on the front foot and Estudiantes chasing the game from a simple Half Back + Roaming Playmaker combination.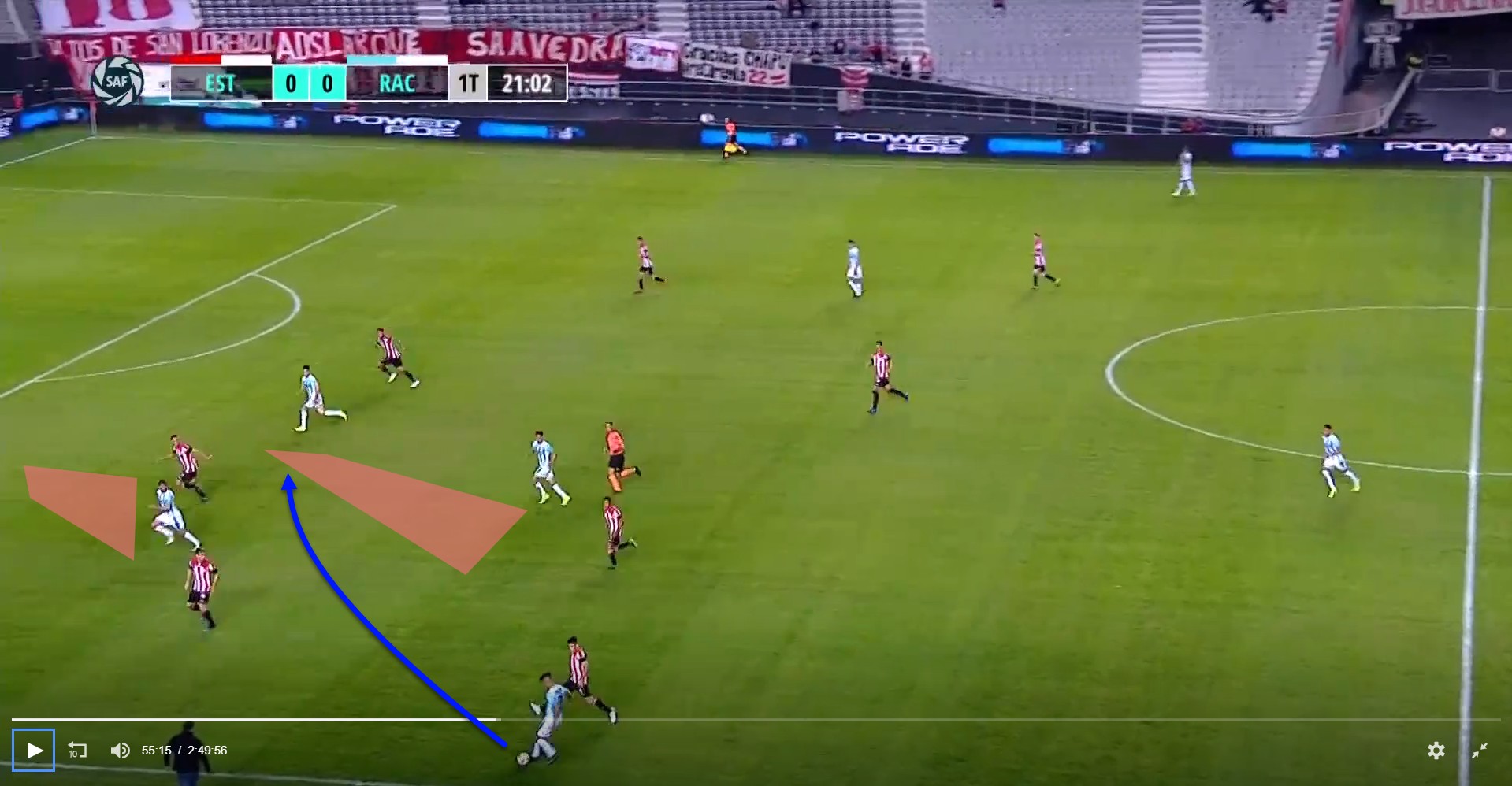 This exchange was not an isolated incident either, it happens multiple times in the match but also throughout the season. In Football Manager we see similar link up between our Half Back and Roaming Playmaker:
The Other Roles
The other team roles were relatively straightforward to pick, with both wide defenders being either Wing Backs or Complete Wing Backs. At times, Racing often play them as Wingers…similar to how Barcelona push their Full Backs on. In defence I have gone simple with two Central Defenders…and perhaps the easiest decision to make was the front two: a Deep Lying Forward and Poacher. Darío Cvitanich in the Poacher role will come alive in-and-around the penalty area and Lisandro López is the perfect advanced link-up player for a Deep Lying Forward. As demonstrated by this simple (but gorgeous goal):
Replicating Real Life
So, I watched Racing Club real life performances and then tried to replicate Coudet's 4-1-3-2 in Football Manager, but is it accurate? I would immediately point you to the Disclaimer in my introduction, but I do believe I have created something in the spirit of Eduardo Coudet's footballing vision.
One pointer for evidence is comparing a real-life heat map to one I have simulated in Football Manager (below). Here we can see a slight preference towards attacking down the right-hand side, and although they are not like-for-like illustrations, you can see similar patterns.
Likewise, my focus on replicating the relationship with Marcelo Díaz as the Half Back and Matías Zaracho as the Roaming Playmaker feels accurate. We only need to take a look at an example Football Manager chart of Zaracho's touches in order to see how mobile his play is. This is something which has led to a National Team call up in real life. Once again, I am happy with this:
The other acid test is whether or not this is a successful tactic in breeding results, after all…Racing Club brought back the spirit of 'La Academia' in their play. Replicating their successes should obviously be a focus of mine. After three friendlies (2 wins and a draw) and four straight competitive wins, I'd say we are on the right track.
If you can't be bothered to set up the tactic as detailed above, I have also published it to the Steam Workshop. Left click on the image below…
As always, thanks in advance for any shares on this piece. Please let me know if you try this system with either Racing Club, or any other team. It would be interesting to see how you get on.
FM Grasshopper